American Truck Simulator
An undervalued, relaxing driving game to escape away these troubling times in.
In these troubling times where traveling is restricted, fun has been virtually transformed, and you just need to relax, this game solves it all. Ok, American Truck Simulator wasn't a cure all for 2020, but it helps more than other games on the market.
ATS is developed by the humble studio SCS Software. When the game was first launched, the studio was much smaller than it is right now. ATS progressively gets better as it matures. They're now releasing 2 DLC states every year while reworking the base map. When this article was published, Wyoming and Texas are next upon the list to get released this year. A new lighting system and a larger line up for Western Star trucks has been targeted for the first quarter of 2021. Multiplayer is slated to be ready by the end of the year.
The attention to detail is amazing with state-specific traffic lights, signs, and sign gantries, and city-specific buildings, landmarks, and other features. Each highway is recreated in roughly 1:25 scale with some artistic exaggerations to enhance the visual appeal and experience of the game without the grueling monotony of vast deserts. Interchanges are recreated and include SPUIs (Single Point Urban Interchanges), roundabouts, DDIs (Diverging Diamond Interchanges), CFIs (Continuous Flow Intersections), and complex freeway interchanges. Turn signals, 4-way flashers, headlights, horns, retarders, parking brakes, GPS, trip mileage reset, windshield wipers, cruise control, and many more features are all operable with the press of a key.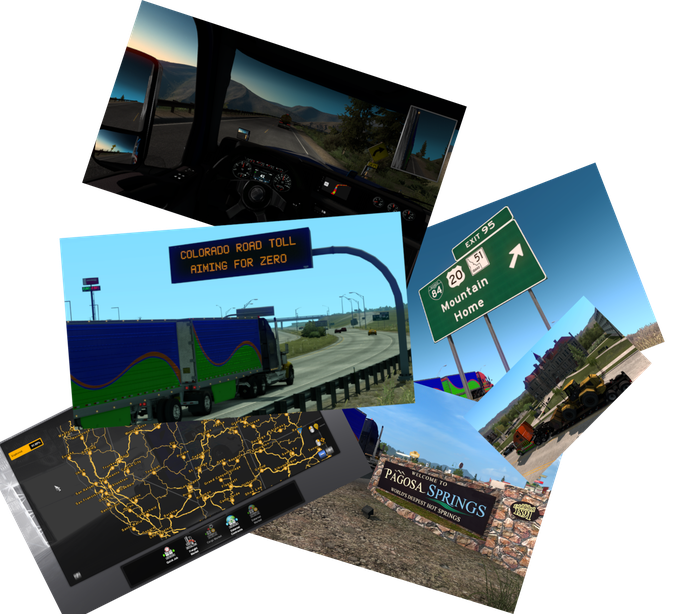 When you first begin, you will be able to choose which city you want your headquarters in. You are then able to pick up loads, which are tailored the economy of the area, for some money. After a couple of loads, the bank will offer you a loan to buy your first truck. You get more money from contracts when you own your own truck. After a while, the bank offers a higher credit limit for you to expand your empire by buying more trucks and garages in other cities. All trucks come with insurance but be aware as the police will fine you for causing a wreck, speeding, and running red lights.
In 2020, SCS Software made a lot of progress and updates in the game. FMOD sound engine was released for both ATS and Euro Truck Simulator 2. FMOD enhances the realism, especially as you drive your truck with the windows down under a SPUI (Single Point Urban Interchange) bridge and echos of traffic fill your ears with pleasure. It also enabled the radio to be played on Linux. With that same update they added the ability to roll down the windows along with better environmental sounds.
Updates occurred to Steering Creations DLC, Wheel Tuning Pack DLC, and a new Cabin Accessories DLC were released for 2020.
Las Vegas was reworked in an update with the addition of I-515 and a better frontage road layout for I-15. With that same update came the graphical enhancement of SSAO (Screen Space Ambient Occlusion). It makes shadows appear more natural; however, it's not for the faint of GPUs.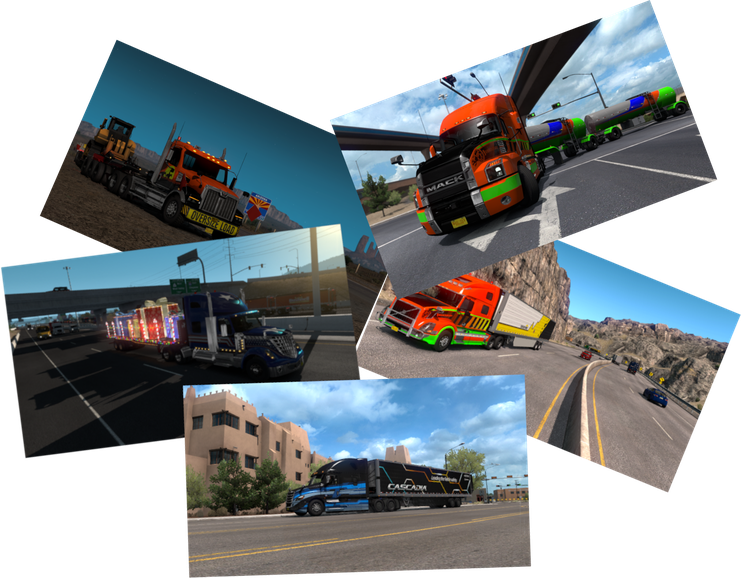 New trucks were released with the Mack Anthem, Western Star 49X, and the Freightliner Cascadia in 2020. This adds to the existing lineup of the International Lonestar, Volvo VNL, Kenworth, and Peterbuilt. More trailers became ownable including lowboys and food tank trailers. All trucks and trailers in the game are free. The addition of the Daimler Truck brands added Detroit powertrain options to the existing ones offered by PACCAR, Cummins, Eaton, Allison, and others.
The states of Idaho and Colorado were released as DLC. The viewpoints feature in Idaho were so well received by the community that it was expanded to other DLCs. Another inclusion to Idaho were historical markers that enhanced the virtual tourism aspect of the game. Colorado was beautifully well done, especially I-70 thru Glenwood Canyon, as it too was a victim of 2020.
California, Nevada, and Arizona are states included in the base game. New Mexico (Enchantment Bundle), Oregon (Pacific NW Bundle), Washington (Pacific NW Bundle), Utah, Idaho (Pacific NW Bundle), and Colorado are available as DLC.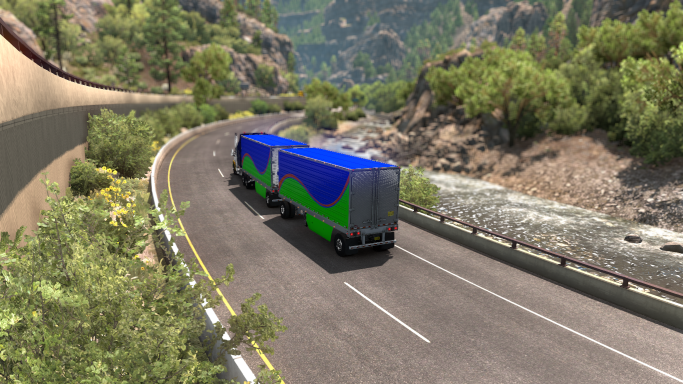 World of Trucks extends the gameplay online where you connect your in-game profile to the website, log your loads, and earn rewards for taking external contracts. External contracts automatically limits your truck to 65mph. Every so often there will be an event where you can win prizes from truck accessories to paint jobs when you complete your tasks. You are usually encouraged to show off your rewards on social media with hashtags.
In 2020, they had the #TruckAtHome event where you were encouraged to stay home and have fun playing ATS and ETS2 rather than spreading the virus during the lockdowns.
#CruisingIdaho was an event to encourage you to explore the recently released Idaho DLC. You were rewarded with an Idaho-themed paintjob and hanging ornament of a peregrine falcon, the state bird.
#CruisingColorado was another event based around the latest DLC release of  colorful Colorado which rewarded you with a mountain goat paintjob and an ornament of a cowboy.
The annual Christmas #XmasWiseGiving event gave us a new winter-themed paintjob with certain accessories as a free preview to the Cabin Accessories DLC.
Czech-based SCS Software is one of the best game development companies out there. While most of their revenue comes from DLC, they make it easier for beginners to add to their collection with up to 70% off sales regularly in addition to bundles which help save you even more. You might be saying, it better be 70%+ off with all of that DLC I have to buy at $60 MSRP that is common with other games. You would be wrong. Most of the DLC is reasonably priced around $12 MSRP on release day. As a matter of fact, during the last sale, you could pick up the entire west coast plus the base game for $20 on Steam with the Pacific Northwest Bundle. The Enchantment Bundle is at a garage sale price of just over $3 if you don't include the base game (which is $5). They also listen to their community of players; however, they are limited with their small size compared to larger gaming outfits, but they do their best. It is a growing company, nonetheless, and has now gained recognition from the Czech government of how vital the gaming industry is in Czechia.
The #BestCommunityEver surrounding the game is great and engaging on social media. There are many mods for the game that add a lot of features like truck customizations, using real brands, additional weather types, maps, trucks, trailers, and more. A popular mod is TruckersMP which adds multiplayer support to both ATS and ETS2. TruckersMP also allows you to join various virtual trucking companies. Another popular mod that is very well done is ProMods. They recently released a Canadian map that is very well done. You will find online radio stations dedicated to the game as well including Truckers.FM (Current music and techno) and its sister station BigRig.FM (American driving music [70's pop/folk and country]).
---
Available on: Steam (Preferred), DVD
Operating System: Windows, Linux, Mac
Price (base game): $20 MSRP, $5 during a sale
Controller: ✓
Steering Wheel: ✓
Monitors: 1 or 3-Windows Only with extension
Steam Workshop: ✓